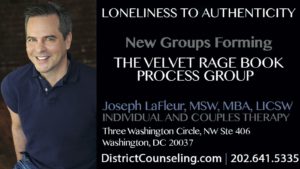 This group is centered around the book "The Velvet Rage" which deals with the ongoing issues of finding authenticity as gay and bisexual men.  It's creative in that it is a process oriented book club where there is both discuss and self-reflection.  The objective of the velvet rage group is to help identify one's stage of development through shared experiences, and to shift from unrecognized shame and loneliness to authenticity.  The principles of the group include understanding, openness and non judgmental reflection, insight and awareness.
A recent article in the Huffington Post, 'The Epidemic of Gay Loneliness', stated that although equality is being achieved, 'the rates of depression, loneliness and substance abuse in the gay community remain stuck in the same place they've been for decades. Gay people are now, depending on the study, between 2 and 10 times more likely than straight people to take their own lives. We're twice as likely to have a major depressive episode. And just like the last epidemic we lived through, the trauma appears to be concentrated among men. In a survey of gay men who recently arrived in New York City, three-quarters suffered from anxiety or depression, abused drugs or alcohol or were having risky sex—or some combination of the three. Despite all the talk of our "chosen families," gay men have fewer close friends than straight people or gay women. In a survey of care-providers at HIV clinics, one respondent told researchers: "It's not a question of them not knowing how to save their lives. It's a question of them knowing if their lives are worth saving."'
Alan Downs writes in his book, The Velvet Rage, 'As gay men, we are uniquely qualified to bring the message of compassion, forgiveness, and self-acceptance — for we have been there and know how important it is to be proud of who we are.  The destructive influences of shame are everywhere in our world, and it is my sincere hope that this book will start a movement that…pushes us on the world stage as the leader of self-acceptance and awareness…to offer compassion, acceptance, and most of all, the hope that comes from knowing that no matter who you are or what you have done, you are worthy of love.'
The cornerstone of the The Velvet Rage is that 'understanding our differences, loving ourselves without judgement, and at the same time noticing what makes us fulfilled, empowered, and loving men….[yet at the same time] while we are different, we are at the same time very similar to all others' in our daily struggles.  This is what makes the group so powerful.
For more information complete a contact form or email me at joseph@districtcouseling.com.  Visit my location and rates page for that information.
https://www.districtcounseling.com/wp-content/uploads/2015/12/Logo.png
0
0
Joseph LaFleur
https://www.districtcounseling.com/wp-content/uploads/2015/12/Logo.png
Joseph LaFleur
2017-03-28 18:11:27
2017-03-28 18:11:27
Velvet Rage Book Process Group